Huge Bull Walrus Mask-vintage Sold 11/28/23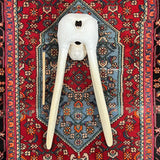 Description
WALRUS MASK "Tusk Walker" a huge and magnificent bull walrus mask/nose plate with 22" of exposed  tusks. The over all length is 30", the weight is nearly 21 1.2 pounds, t
he max girth is 8" at the bone line. 
 This is a pre 1972 mask with no scrimshaw which is rare, more often they come with vintage native artwork, scrimshaw or carving. This fine specimen includes the front part of the jaw complete with the teeth.  Non natives can no longer hunt these (since 1972 so this is an opportunity to get a trophy for your wall that does not have artwork which is required to buy and sell if the walrus was taken after 1972.   A one of a kind spectacular show piece-$3,950 includes shipping.   
   All the walrus masks we sell are from the 1900's and are being reintroduced into the market, they are decades old, always purchased in the lower 48 from previous owners. We do not buy any from Alaska where walrus are are still being hunted for food.  No one is hunting walrus to supply us with these; they are all "recycled".