1911 Mammoth Ivory Bark Grips (36B) - Sold 09/01/23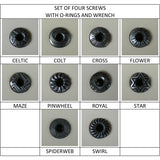 Description
Mammoth Ivory Bark cut from the outside of the tusk.  Here is a set with wonderful crackling patterns, our Creator is such an artist.  The white spots at the top are glare, showing the high polish.  These are really gorgeous.  Screws shown are polished Cross and are not included.
Available in Magwell, Standard, Bobtail or Bobtail 2.
Non-structural cracks and fissures are common in mammoth ivory bark and part of their natural beauty and uniqueness. All of our ivory grips have been stabilized and are guaranteed against breakage for life!

Made from genuine mammoth ivory from Siberia (legal to ship world wide with the exceptions of New York and New Jersey). This ivory is at least 10,000 years old and we use only the best quality to insure that they are as tough as modern elephant ivory but, with the magic that only extinct prehistoric furry elephant ivory has.
Protect Your Grips with RENAISSANCE WAX - click here!