1911 COMPACT Pre-1972 Walrus Ivory and Ebony Grips (OM-1)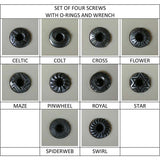 Description
Ivory pearls or burl is what this looks like, it is the swirled marbled interior core or secondary dentine found only in walrus ivory and it is wild and unique looking. These are made from vintage pre 1972 walrus ivory and are backed with a thin ebony black layer of G10, stabilized and guaranteed.  Swirl screws are not included, order screws separately.
Grips available with Standard or Bobtail cut. 
Compact/Officers model grips are shorter, approximately 3-3/4" in length and will not fit a full size frame.
All of our ivory grips have been stabilized and are guaranteed against breakage for life! 
If your not satisfied with these grips, simply return them unaltered within 30 days and we will cheerfully refund your money, issue a credit or make an exchange, your choice. Please include invoice copy.

We buy tusks from individuals that contact us from the lower 48 states (not Alaska) that own or have inherited them and are certain that the age predates the 1972 marine Mammal Protection Act, we have limited stock. 
U.S. sales only - for international orders, please see our Mammoth Ivory Grips.
FANCY 1911 SCREWS - click here!
For years customers have asked how best to care for their ivory items, we have the answer now - Renaissance Wax!  Extraordinary wax polish restores, refreshes and protects fine furniture, antiques, precious metals, collectibles, art, ivory, firearms and much more! 
Protect Your Grips with RENAISSANCE WAX - click here to read more.
To add Renaissance Wax to an order for these grips, just select one of the boxes below indicating size.