1911 Pre-1972 Walrus Ivory Grips (14)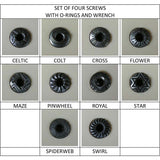 Description
A nice set of genuine walrus ivory grips, the left panel in the photo is "clear' outer ivory with no core showing, the right panel has some secondary burl ivory showing on the right and has a sealed fracture across the bottom.  The two dark areas on that panel are much lighter than seen in the photo, the light areas at the top are glare from the lights and show the high polish.  Priced at only $385!

Non-structural cracks and fissures are common in walrus ivory and part of their natural beauty and uniqueness. When needed our ivory grips are stabilized and all grips are guaranteed against breakage for life!
U.S. sales only - for international orders, please see our Mammoth Ivory Grips.
We buy tusks from individuals that contact us from the lower 48 states (not Alaska) that own or have inherited them and are certain that the age predates the 1972 marine Mammal Protection Act, we have limited stock. 
FANCY 1911 SCREWS - click here!
For years customers have asked how best to care for their ivory items, we have the answer now - Renaissance Wax!  Extraordinary wax polish restores, refreshes and protects fine furniture, antiques, precious metals, collectibles, art, ivory, firearms and much more! 
Protect Your Grips with RENAISSANCE WAX - click here to read more.
To add Renaissance Wax to an order for these grips, just select one of the boxes below indicating size.