Green Chevron Macaroni Trade Beads Necklace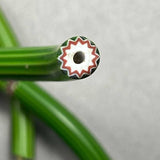 Description
This beautiful old strand of green chevron macaroni trade beads, have the wonderful red & white star pattern revealed on the ends.  Strung on raffia the traditional way, this is our best and last one.
The glass was layered in canes, then cut, the design resulting from the layering and revealed on the cut end gave them the names of "Star" or "Rosette" beads. A very popular design and certainly one of the most fascinating of the early trade beads.
Beads are approx. 3/16" in diameter and cover 21" of strand.  They are strung in the traditionally manner on raffia with an overall length of approximately 24+"