Narwhal Ivory Tusk Section 02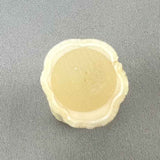 Description
Narwhal Tusk section a piece we acquired from the Houston collection brought into Seattle in the 1950's from the Inuit village of Pond Inlet, Nunavut Canada.  Narwhal Tusk Section exhibiting the classic beautiful twisting,
Narwhal Tusk Section from the upper section of a tusk, 13/16" diameter x 1 1/16" tall. Shows the exquisite twisting pattern.  This could be made into jewelry, a handle of just have for what it is, the rarest of the ivories.  The narwhal vortex interior photos are for your viewing pleasure, not many people have seen the inside which was once filled with a nerve. 
Ships Free in U.S. Only. No NJ Sales.